The 7th international conference on thermosetting resins took place in Berlin from the 25-27 of September 2018. Dr Terry McGrail (IComp director and technology leader) is a co-organiser of the conference with Professor Monika Bauer (Director Fraunhofer Research) and Professor Jean-Francois Gerard (President EPF European Polymer Federation). The topics covered as part of the conference included; chemistry, processing, characterisation, modelling and simulation of thermosetting resins, new and sustainable chemistries, repair, recycling and applications e.g. fibre-reinforced thermosets, adhesives, coatings and 3D printing. The event was sponsored by; Huntsman, Henkel, Hexcel, Specific Polymers, Brandenburg Invest, Applied Sciences Journal, Cluster Kunststoffe, Chemie Brandenburg and the European Regional Development Fund.
Presenters included representatives from Huntsman, Henkel and Hexcel.
Five members of IComp were present at the conference, and two postdoctoral researchers presented some work currently being carried out at the IComp facilities in University of Limerick.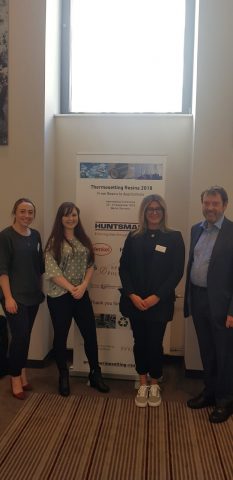 IComp members in attendance at the Thermosetting Resins 2018 conference. From L-R, Dr Niamh Nash (postdoctoral researcher), Ms Rachel Kennedy (research assistant), Dr Angeliki Chanteli (postdoctoral researcher), Dr Terry McGrail (IComp director and technology leader).